Regular phones over Ethernet
(if you dont like tech geek stuff... stop reading now!...)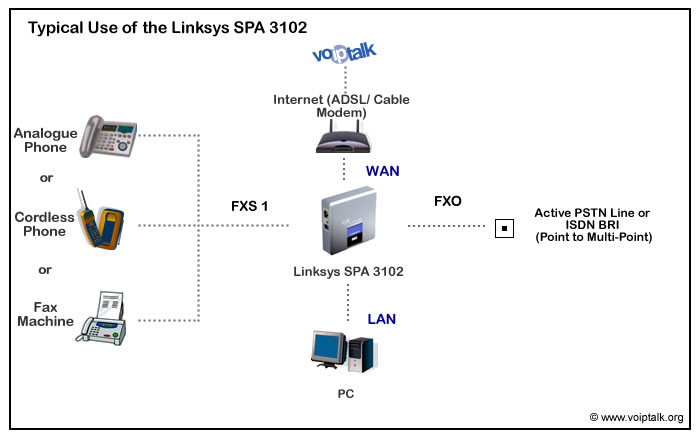 I decided to give Voice over IP (VOIP) a shot in my new garden office. I also wanted to use my existing regular (POTS) telephone line for incoming calls. I bought a Linksys (Cisco) SPA3102. This box is designed to allow you to plug your phone sock in, and for the signal to be converted to IP traffic. The protocol is SIP...
The S in SIP does not mean 'Simple'.
After a week or so of faffing around, I discovered that the BT HomeHub that I have has some 'partial' SIP server support, and as a result seems to block / catch my SIP traffic. So... calls coming into my Linksys SPA3120 don't go any further than my BT Homehub. As I am using that as my router... it means the traffic getting out to my Ethernet over Power adapter.
BT used to provide a services called BT Talk. This was basically their version of SIP running over the broadband connection. If you have a BT Homehub 1 or 2... you can still use it. If you are on the Homehub 3... sorry it was removed from the device.
The phone number you get with this is different. I have a regular phone number - that comes through my regular phone... and a BT Talk phone number. They both start with the same area code...
Anyway - I decided to switch this on... only problem is... that I want to use a device other than a BT IP phone... I want to use my iPad or Mac Book pro to send and receive calls...
After searching around the BT Broadband forums, I discovered that you can download the SIP settings to a text file... and that will give you all the information you need to setup your SIP client.... I am using Jitsi as a SIP client - that seems to work. I have also managed to get X-Lite 4 to work... but it is not quite as solid as Jitsi as far as I can tell.
so... I now am able to make SIP calls from my mac book pro (or iPad).
For the geeks out there, this is how you find out your SIP Softphone Client settings. This is for anyone that has a BT Homehub 1 or 2 (pulled from the BTBroadband Forums);
1. Sign up for BT Talk...
https://service.btbroadbandvoice.bt.com/bbv/online/consumerBBTalkMyAccount
a) Enter your number and login details - they were sent to you when you registered,
b) Navigate to configure your setup, click the First Button "Configure Your equipment"
c) A Second button appears call "configure"
d) Right mouse click this and get properties
e) Cut and paste the whole URL into a text editor
f) To make it more legible put a carriage return before every "&" the remove the "&"
You will end up with something like this :-
http://api.home/voipsetup.api?
SIPTransportPort=5060&
SIPRegistrarAddress=btsip.bt.com
SIPRegistrarPort=5060&
SIPOutboundProxyAddress=sip.btsip.bt.net
SIPOutboundProxyPort=5060
SIPProxyAddress=btsip.bt.com
SIPProxyPort=5060
SIPPhoneNumber1=44XXXXXXXXX
SIPUsername1=44XXXXXXXXX@btsip.bt.com
SIPPassword1=QMXXXXXXXXXXXXXXXX
2) The most important bit of information is SIPPassword1=QMXXXXXXXXXXXXXXXX. This you will note is NOT the BT password BT gave you which you login into the site, which you might think is encrypted. It's plain text an is the password you need to use to authenticate against the proxy. Also understand that it's important you do not confuse the outbound proxy with the SIP proxy.
This translates to on a SIP Client - replace the values above in the <> entries;
Authentication or Authorization Name: <SIPPhoneNumber1>
Authentication password: <SIPPassword1>
Username: <SIPPhoneNumber1>
Domain: btsip.bt.com
Display Name: <SIPPhoneNumber1> without the leading 44
Proxy server address: btsip.bt.com
Proxy server port: 5060
Registrar server: btsip.bt.com
Registrar server port: 5060
SIP port: 5060
RTP port: 5004
Use random ports: No
STUN enabled: No
Outbound proxy mode: Always
Outbound proxy: sip.btsip.bt.net
Outbound proxy port: 5060
If you want to use all this without a BT HomeHub.. I believe you can, but, you need to setup a nameserver lookup for the proxy... or something like that...
Sadly, I have not managed to get my inbound telephone calls on my regular (POTS) line to route through this. I know the SPA3120 can do it... but I think the BT Homehub is blocking this. The BT Homehub cannot be configured to route this traffic as far as I can tell... even with a hack.